November 6, 2017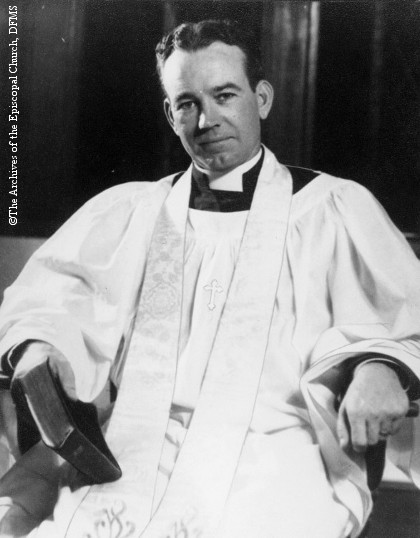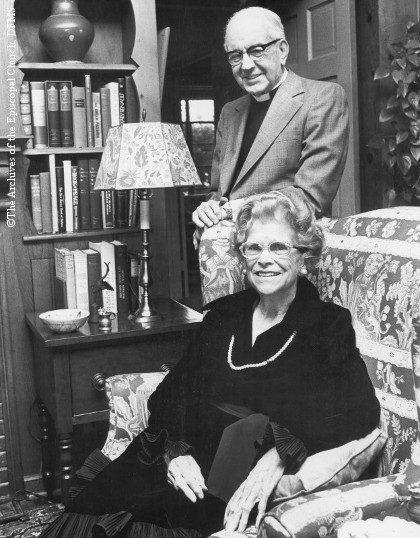 Left: Jones' last portrait as Rector of St. Paul's, 1943.  Right: Bishop Jones and his wife, Helen, undated.
The Papers of the Rt. Rev. Everett Holland Jones (1902-1995), 4th Bishop of West Texas, have been processed and are now open for research.  The papers include a large collection of printed sermons, personal and family biographical papers, voluminous correspondence spanning 1921 to 1990, course and lecture outlines, and the subject files from which Jones drew material for his writings.
Jones, who was born in San Antonio, studied journalism and philosophy as an undergraduate, but always felt called to the ministry. He answered the call at age 24, was ordained a deacon in his home parish of St. Mark's in San Antonio in 1926, and became a priest the following year. After over a decade of service to parishes in Texas, Jones' calling took him briefly to the National Cathedral in 1938.  He returned before the year was up, and spent the rest of his career in Texas.
In 1942 he was elected Bishop of Honolulu, an honor which he declined, and in 1943 he was consecrated Bishop of West Texas. During his tenure, Jones founded many important community resources which still serve the San Antonio area today, including the Ecumenical Center for Religion and  Health, a chapter of Alcoholics Anonymous, and the Good Samaritan Center. Many items in this collection are related to this community outreach work, which was a cornerstone of his ministry.  In keeping with his journalistic background, Jones also wrote a weekly column, A Bishop Looks at Life, which was published in many Texas newspapers and collected as a book in 1967. Those "sermonettes" and many other sermons by Jones form an important part of his papers, which span the period from 1893-1990, with the bulk of the material representing 1925-1984.
For more information, or to access our collections, please contact us.