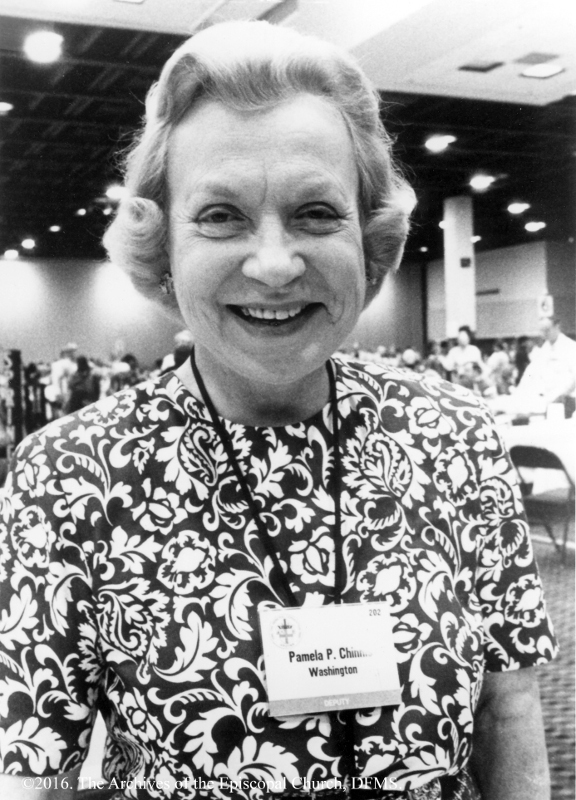 Elected 1991, Day 5; served through 2000
Pamela Pauly Chinnis, born in 1925 in Springfield, Missouri, was the first female President of the House of Deputies. She was elected to the office in 1991, after serving two terms as vice president under The Very Rev. David Collins, and her tenure began at the next Convention in 1994. Mrs. Chinnis began her service to the Episcopal Church in a time when women were not allowed to sit in the House of Deputies, but took advantage of the leadership positions available to women. Upon moving to Washington, D.C., she joined the Episcopal Church of the Epiphany, where she became the parish's first female warden. Following her term as warden, she became the president of the 1976 Triennial Meeting of the Episcopal Church Women. In 1979, she began a six-year term on the Executive Council, and that same year was elected as an alternate delegate to the Anglican Consultative Council. A self-described feminist, Mrs. Chinnis was occasionally the subject of controversy, particularly due to her outspoken support of women's ordination, the general participation of women, and her advocacy on behalf of other historically under-represented groups. She was widely respected for her inclusive and balanced leadership, her commitment to justice and human rights, and her deep faith. Mrs. Chinnis died on August 24, 2011.
READ
Episcopal Women's History Project, An interview with Pamela Chinnis from the Episcopal Women's History Project.