August 23, 2019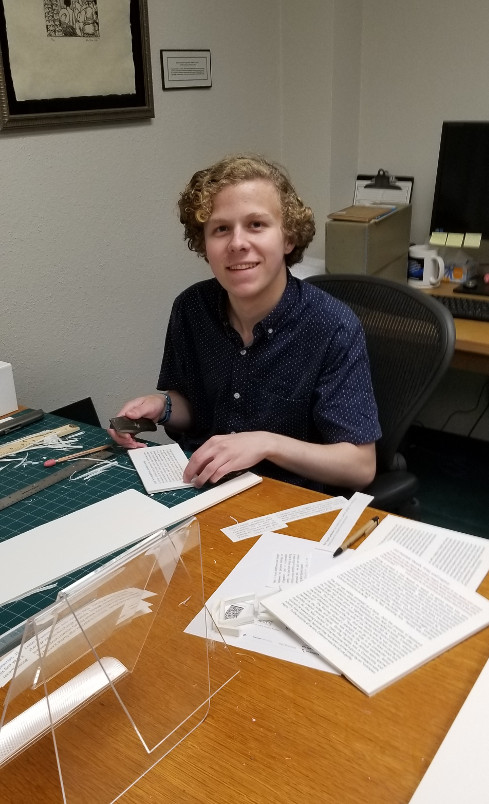 On August 14, 2019,  the Archives and the SSW Library announced the opening of an exhibit to mark the anniversary of Jonathan Daniels' death.  Entitled Jonathan Daniels: Called to be Fully Present, the  exhibit draws on the Archives collections received in part from the recent acquisition of the Episcopal Divinity School Archives.  Using material in the Archives and collections received in the recent acquisition of the Episcopal Divinity School Archives, the exhibit features original source material and a narrative of Daniels' early life, his awakening, and death.  Special acknowledgment goes to intern archivist, Noble Brigham, who led the production and design team.  Noble is a senior at Episcopal Academy in Newtown Square, PA.  Staff archivist Ellie Miller gave key research assistance.
The exhibit is designed around Daniels' journey to Selma in 1965 to join Dr. Martin Luther King's march and to work with Student Nonviolent Coordinating Committee (SNCC), a journey which ended with his murder in Lowndes County in August.  The Daniels story has been told many times and he is honored in the Church Calendar on August 14th.  The stories featured in the photos and documents include his youthful struggle to find meaning in a goal that could call up a passion for life.  He broke from a quiet suburban upbringing in Keene, NH to enroll in a military college, where he excelled despite feeling distant and having qualms about its underlying values.  An attempt at graduate studies in literature at Harvard left him woefully uninspired and emotionally adrift until he turned to finding a spiritual answer.  He had been drawn to Roman Catholic spirituality and ceremony for some years and had long felt a call to ordained ministry.  A service at Church of the Advent in Boston brought him into the Episcopal Church, and led to his pursuit of orders at the Episcopal Theological Seminary in Cambridge.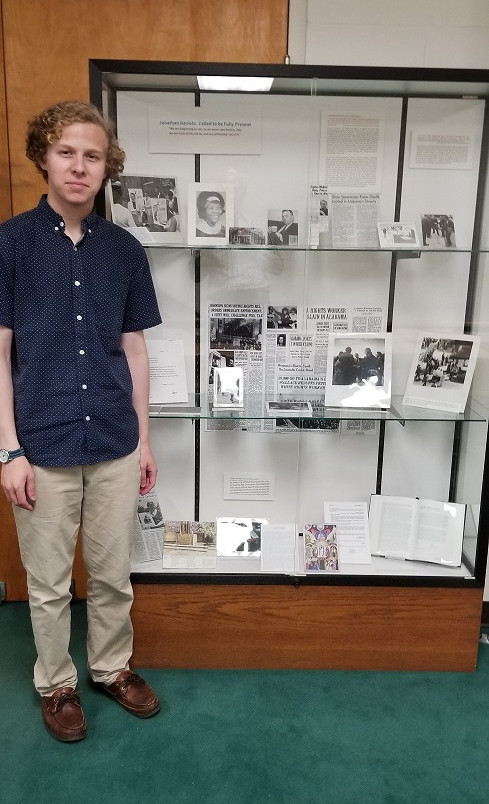 Daniels was murdered in Lowndes County, Alabama on August 20, 1965, while working with SNCC on voting rights and community organizing campaigns.  He and three fellow SNCC workers, just released from several days in the Hayneville jail following their arrest at a protest, stopped by a store they regularly patronized to get a cold drink and call friends to inform them of their sudden and surprising release.  They were met at the door by a deputy sheriff, Tom Coleman, who shot at Daniels and Ruby Sales, a 17 year old activist, after barring their entry to the store.  Daniels pushed Sales to the ground, receiving the bullet intended for her, and was killed instantly.  Coleman was exonerated by a jury of his peers, including several jurors with whom he was on close social terms, at a trial held a mere six weeks after the incident.  Some journalists observed that the trial was a travesty, but the murder occurred at the same time as rioting in Watts, escalating tensions in Vietnam, and several other high-profile civil rights murders and protests, and was not heavily covered.  America stood at the edge of change towards justice or outright civil unrest.  Daniels was 26 when he was lost his life for a cause  he was only beginning to understand, but which continues to have profound implications for the country.
The Daniels exhibit is part of an installation at the Library and an extended online exhibit, The Church Awakens, which tells the story of African American Episcopalians.