New Orleans
"His constant attention to duty has not only endeared him to the people whom he serves, but the clergy and Church people throughout the state are grateful for his ministrations. His practical approach to intricate social problems has won the respect of social workers and city officials." 10
-Girault Jones, Bishop of Louisiana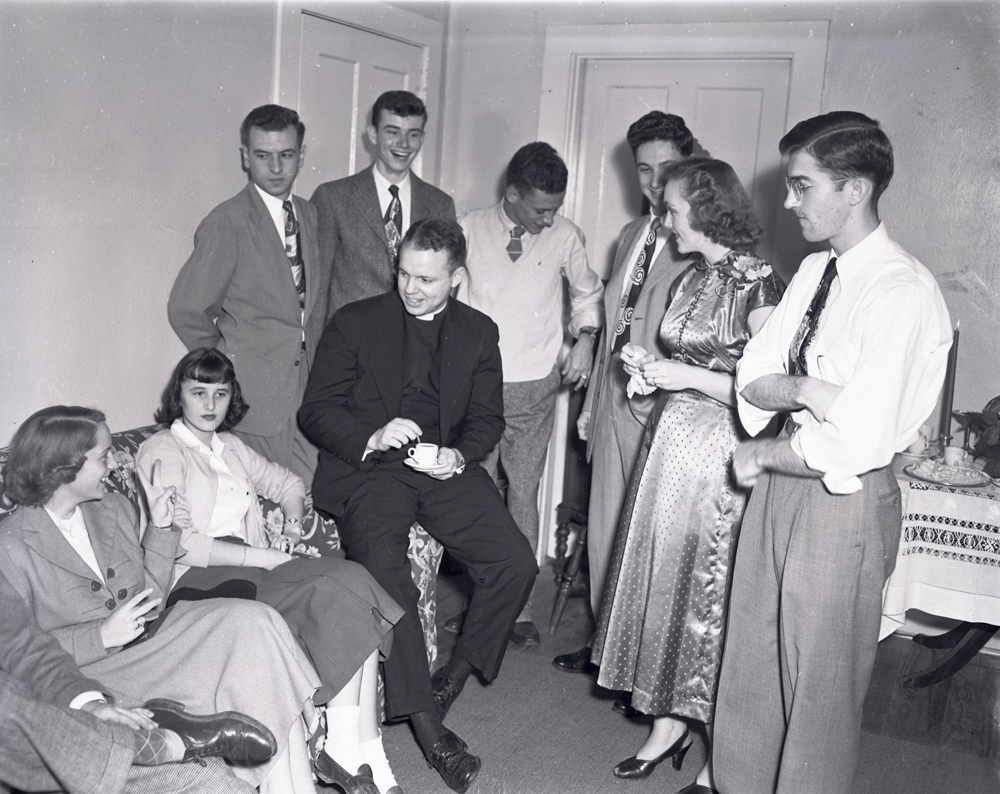 Allin amongst college students at a gathering of the Newcomb College-Tulane University Canterbury Club, 1949.
Chaplain, Curate, City Missionary
After having turned down an initial offer because he felt a strong tie to Arkansas, Allin spent the next eight and a half years in Louisiana. His first position was in New Orleans where, in addition to his family duties as a newly-wed and soon to be father, he took on several assignments at once: as curate of St. Andrew's Church, chaplain to Episcopal college students at Newcomb College-Tulane University, and as Institutional Chaplain of New Orleans serving area prisons, hospitals, and nursing homes.
Allin's role as City Missionary for the diocese exposed him to eye-opening social inequities and allowed him to exercise his problem-solving skills as an educator and administrator. His calendars from New Orleans demonstrate busy days of back-to-back hospital visits, calls to the prison, hosting campus "Chaplain's chats," and Canterbury Club events for Episcopal students. Girault Jones, Bishop of Louisiana, used his Convention address to recognize Allin's tremendous efforts noting, for example, his 1,606 personal calls in ten hospitals and fifty-six services held in the prison chapel in one year.
In his oral history, Allin admitted that he liked to boast playfully that it took five people to replace him when he left the New Orleans post because his one position grew into five full-time ministries. "I'd kid those fellows in New Orleans in my former jobs. As the work prospered and they were able to prosper in ways I couldn't have, and they got those assistants, I said, 'You really took some combination, you fellows, to carry on my efforts here.'" 11